ore is not always better. Harder is not always better. Pushing hard at the very beginning of a race is stupid especially in a marathon. Running at low intensity is really slow. A race is always hard, no matter how much you have trained before. Torturing yourself through injuries is stupid. Eating during a marathon is essential. Rest days are not only good for beginners. Starting your running career with a marathon is stupid. Not eating enough or the wrong thing before a run. It takes years to reach your level. Running is a journey, not a destination. Enjoy the process, the ups and downs, and the lessons you learn along the way.
Sub 3 Zutaten:
Realistic goal setting – What should you've done before
Trainingssteuerung und Periodisierung
Key Sessions
Schlaf und Regeneration
Andere Trainingskomponenten:
Der Rest des Lebens
Je mehr Sie trainieren, desto mehr Zeit brauchen Sie, um sich zu erholen, und desto höher ist das Risiko von Verletzungen und Krankheiten.
Besonders wenn Sie neu im Laufsport sind, müssen sich Ihre Muskeln, Bänder und Sehnen langsam an die Belastung gewöhnen.
Steigern Sie Ihr wöchentliches Laufpensum nicht zu schnell. Eine Steigerung von 10 % der km/Woche ist ein guter Indikator.
Drängen Sie nicht durch Verletzungen hindurch. Das kann Sie für Monate außer Gefecht setzen. Sie haben schon von diesen Verletzungen gehört: IT-Band-Probleme, Schienbeinkantensyndrom, Achillessehnenschmerzen. Ich hatte sie alle.
Lernen Sie, wie sich Ihr Körper anpasst und Ihnen leise zuflüstert. Seien Sie wachsam, wenn sich Beschwerden und Müdigkeit einstellen. Nicht nur der Sport bringt Stress in Ihr Leben. Auch andere Dinge tun das.
Training-Cycle
The feeling. Running in front of crowd. Als einer der ersten. Staffelläufer applaudieren. Auch Einsamkeit
Periodization
Realistic goal setting – What should you've done before
Key sessions
long runs
Build long runs
Rest and sleep
Eat
Cross-Training
Weight Training Meine besten Übungen
Other movements
Don't take training too seriously
Fueling
Race fueling
Carboloading
Avoid and understand injuries
longterm approach
Shoes
Comfortable, tested in long runs, without blisters
A Sub 3 Hour Marathon is a "Local Class" Time
What it takes?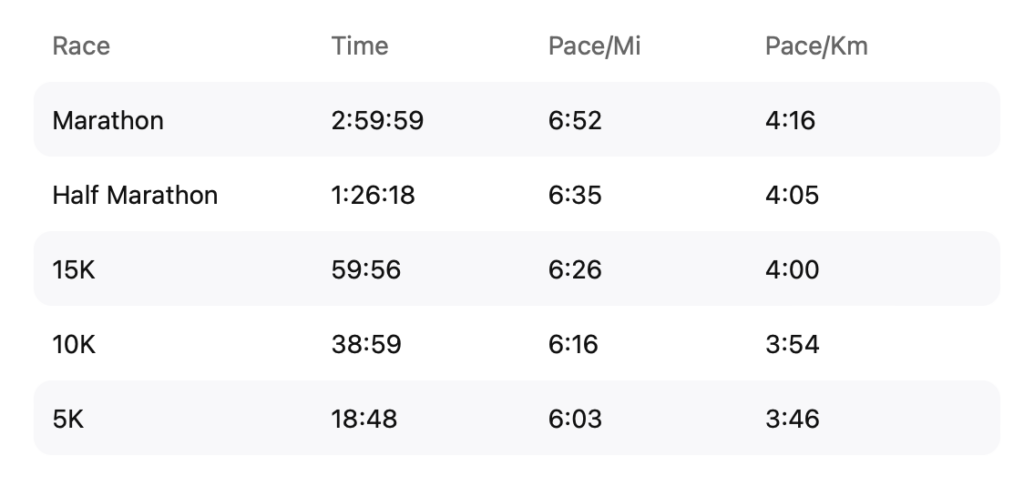 VDOT
Weitere Informationen – Wo habe ich gelernt
Run easy on easy days
In 2021 the Marastats.com website estimated that only 4% of all marathon runners of any age manage to break 3 hours. (https://blog.coachparry.com/how-to-run-marathon-in-under-3-hours/)